Research Article
Open Access
Local stress anomaly in the Bavarian Molasse Basin
Received: 15 June 2014
Accepted: 11 December 2014
Published: 12 February 2015
Abstract
Background
The characterization of fault zones in the Bavarian Molasse Basin plays a major role for further geothermal reservoir development. Hence, their identification, geological origin, and hydraulic characterization are discussed extensively.
Methods
Stress indicators and fractures are interpreted from image and caliper logs of three highly deviated wells at the Sauerlach site. We transform the identified stress field into the borehole coordinate system and compare the observed orientation to the modeled stress field which assumes a homogeneous borehole surrounding.
Results
High breakout occurrence, cross-cutting fractures, and a fracture orientation from N-S to NNE-SSW are observed in Sauerlach Th1. In Sauerlach Th2 and Th3, fractures strike primarily ENE-WSW and N-S to NNE-SSW. Drilling-enhanced natural fractures and drilling-induced tensile fractures are observed in all three wells and indicate the orientation of tensile stress at the borehole wall. In Sauerlach Th2 and Th3, stress transformation indicates a SH-dir. ~ N 10°E in a strike-slip stress regime. The modeled stress orientations match the observed orientations within the well Sauerlach Th1 if either SH-dir. is N 320°E in a strike-slip regime or SH-dir. is N 10°E in a normal faulting regime.
Conclusion
This approach improves the detection of the local stress field especially for non-vertical wells, which has, in combination with the facture pattern, a major impact on the hydraulic system of the geothermal reservoir.
Keywords
Fault ZoneStress RegimeStress IndicatorBorehole WallStatic Friction Coefficient
Background
The use of geothermal energy in the Bavarian Molasse Basin started in the late 1990s when first district heating projects emerged. To encourage further development of geothermal energy use, the Bavarian Geothermal Atlas was published in 2004. Indeed, this led to an increased exploration activity for heat and power generation. For geothermal district heating projects, an incentive program followed on the national level, resulting in a total of 12 successfully developed district heating projects with an installed thermal capacity of 141.1 MWth so far. After the first power generation project in 2004, three more projects followed after 2008/2009 in the area south of Munich, the installed capacity being 22.36 MWel and 42 MWth (GTV 2014; Dorsch and Pletl 2012).
The Bavarian Molasse Basin offers favorable conditions for the utilization of geothermal energy. Among a total number of 46 wells, 44 were operated successfully. The initial exploration strategy focused on faults and fault zones. They were identified mainly based on old seismic industry data showing an offset of significant reflectors especially at the base of the Tertiary strata. With advancing reservoir knowledge resulting from the evaluation of the drilled geothermal wells and the acquisition of new seismic data, the lithofacial aspects of the Malm reservoir were studied. The findings were incorporated in the exploration strategy (Boehm et al. 2012; Lueschen et al. 2014). Nevertheless, the two failed drillings still give rise to questions with respect to diagenetic processes, along with dolomitization as well as hydraulically active fractures and faulting. A key aspect towards an improved evaluation of reservoir rock properties of the Malm is the integration of stress field parameters, since critically stressed fractures are known to be more often hydraulically active than uncritically stressed fractures (Barton et al. 1995).
It is well known that the major geothermal provinces are located at structurally favorable settings dominated by step-over/transferring, overlapping, or terminating normal faults. They are preferably striking parallel to the maximum horizontal stress (Faulds et al. 2011). The majority of the Molasse basin fault zones identified are ENE-WSW-trending normal faults (Lemcke 1988). In relation to the roughly N-S-oriented maximum horizontal stress (Reinecker et al. 2010), the N-S or NNE-SSW (approximately N 30°E)-oriented fracture systems show a high tendency to develop tensile or shearing character. Recent seismic investigations revealed inhomogeneities near normal faults, which may have a significant impact on the hydraulic properties of the reservoir (Lueschen et al. 2014).
In order to study fracture systems, stress indicators, and facies structures within the reservoir, image logs can be used (Shamir and Zoback 1992; Hickman and Zoback 2004). This study covers three wells of the Sauerlach site with highly deviated reservoir sections. Their fracture sets as well as stress indicators (drilling-induced tensile fractures (DITF), drilling-enhanced natural fractures (DENF), and breakouts (BO)) are interpreted in the image logs. For highly deviated wells, in situ stress interpretation based on stress indicators is carried out by transforming the regional stress field into the wellbore coordinate system. Our approach is to compare the observed orientations from the different stress indicators with the calculated (modeled) stress orientations. For the regional stress field, we generally assumed a strike-slip stress regime (Reinecker et al. 2010). The difference between the orientation of the interpreted stress indicators and the calculated stress distribution in the well can be determined. By varying the stress regime, the difference between the observed and calculated stress direction is minimized to study the local stress field near the wells.
The geothermal Sauerlach project
We analyzed data from the geothermal project at Sauerlach which is situated SE of Munich. It is one of the biggest heat- and power-supplying geothermal project in Germany (GTV 2014) and is operated by the Munich utility company Stadtwerke München. Three wells, two for injection (Sauerlach Th2 and Th3) and one for production (Sauerlach Th1), were drilled in 2008 and 2009. The production yield is 110 L/s with a temperature of 140°C from the 4 km deep reservoir (Pletl et al. 2010). Under present conditions, an about 4 MWe of electrical power and a maximum heat production of 4 MWth (4 GWh/a) are supplied. The plant has been connected to the grid since spring 2014.
All three wells are drilled from one drill pad with a nearly vertical orientation down to 1,000 m depth. Starting with the third well section, they are inclined in the direction of the reservoir targets: Sauerlach Th1 is oriented to NW-SE (N 300°E) with an inclination between 50° and 60° (from the vertical) and reaches the reservoir at a depth of 3,739 m TVD (Figure
1
a/red point). Sauerlach Th2 reaches the reservoir at 3,571 m TVD (Figure
1
a/red point) and is directed towards N (N 0°E) with an inclination between 40° and 60°. Sauerlach Th3 reaches the reservoir at 3,872 m TVD and is oriented to SSE (N 160°E) (Figure
1
a/red point) with an inclination between 35° and 60°.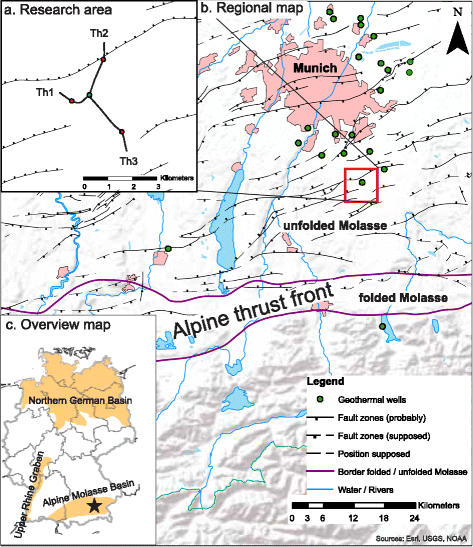 Directly after drilling, 6-arm caliper (Schlumberger EMS-GR, Houston, TX) and image logs (Schlumberger FMI, Houston, TX) were measured to image the borehole wall (Table
1
). In addition, drilling safety tests, such as formation integrity tests (FIT), and the reports of cementation jobs revealed borehole pressure data indicating the lower bound of the minimum principle stress magnitude.
Table 1
Database for structural and stress interpretation of well logs
Well

Tool

Hole diameter

Hole azimuth/inclination

Depth interval (MD)

Depth interval (TVD)

Th1

EMS-GR (6-arm caliper)

23″

Vertical

49 to 987 m

49 to 987 m

EMS-GR (6-arm caliper)

16″

Vertical

982 to 2,351 m

982 to 2,351 m

EMS-GR (6-arm caliper)

12″

Vertical to 230° to 290°/45°

2,346 to 3,990 m

2,351 to 3,739 m

FMI

8,5″

300°/45° to 60°

3,981 to 4,757 m

3,739 to 4,177 m

Th2

FMI

8,5″

0°/45° to 60°

4,025 to 4,850 m

3,571 to 4,086 m

Th3

FMI

6,125″

160°/45° to 60°

4,343 to 5,490 m

3,872 to 4,438 m
Well test analysis shows a considerably higher productivity of Sauerlach Th1 compared to Sauerlach Th2 and Th3, although permeability values of the reservoir in all three wells were similar. A dominant radial flow regime underlines the significance of matrix porosity to reservoir characterization in all three wells during expansion of the depression cone. However, additional to its better productivity, Sauerlach Th1 stands out with its very high negative skin effect at the very beginning of pumping, which is an indicator of a good hydraulic connection between the borehole and the reservoir (personal communication Savvatis 2014).
Reservoir geology
The Upper Jurassic (Malm) forms the major hydrothermal reservoir in Bavarian Molasse Basin. In the Munich area, it reaches depths between 2,000 and 4,000 m, while the thickness is about 550 m. With temperatures between 80° and 140°C and a low salinity, favorable conditions exist for heat and power generation (STWIVT 2010). The Malm is located below the Bavarian Molasse Basin as part of the North Alpine Foreland Basin. The Bavarian Molasse Basin evolved as a typically wedge-shaped foreland basin from the Upper Eocene to the Upper Miocene in response to Alpine tectonics accompanied by erosion and uplift (Kuhlemann and Kempf 2002).
Hydrogeologically speaking, the Malm exhibits the behavior typical of carbonatic aquifers, with a complex interaction of karstification, fracture, and matrix porosity, where structural and lithofacial properties determine the productivity of the wells (Lueschen et al. 2014; Steiner et al. 2014).
The Malm lithology is characterized by two major sedimentation cycles with marls and marly limestones in Malm alpha and gamma and predominantly limestones in Malm beta and delta/epsilon. Within the younger Malm zeta, a diversification of the sedimentary environment took place (Meyer and Schmidt-Kaler 1989). During the latest Jurassic and earliest Cretaceous, sedimentation changed to a brackish or hypersaline 'Purbeck' facies. Since these units are both carbonatic and cannot be separated in the seismic data, the latter is considered as a part of the Malm reservoir (Lemcke 1988).
Regarding the lithofacies of the Malm, two types of hyper-facies are distinguished: The so-called 'bedded facies' with typically thin-bedded marly or micrits limestones and the so-called 'mass facies' with thick-bedded limestone or dolomitic units and reef structures. Boehm et al. (2012) pointed out that in the Munich region, good reservoir properties can be expected from dolomitized limestones in the mass facies of the Malm zeta and in the Malm delta/epsilon due to parts having a favorable matrix porosity. In addition, the massy dolomitized limestones tend to have karstification potential (Stier and Prestel 1991) and also show a higher fracture density under structural impact due to more brittle properties.
Structurally speaking, the Bavarian Molasse Basin has undergone different tectonic stages of compressive and extensive regimes (Ziegler 1987). The tectonic map at the base Tertiary published in the geothermal atlas (2010) shows a dominant WSW-ENE system in the Munich area (Figure 1b). It consists mainly of antithetic normal fault systems with displacements of up to 150 m, which are oriented parallel to the Alpine Orogen due to basin subsidence as well as subduction in the south (Bachmann et al. 1987). During the Upper Miocene, the compressive regime started with thrust faulting forming the folded Molasse with still a high pore pressure declining into the unfolded northern foreland (Mueller et al. 1988).
It is still being discussed where and to what an extent the younger alpine tectonics affects the unfolded foreland, since fracture porosity can be influenced significantly by the activity of faults. Previous publications of Betz and Wendt (1983) and Illies et al. (1981) presented conjugated lineament sets from satellite imagery in the western part and Unger (1999) described a set of strike-slip faults in the eastern part of the Bavarian Molasse Basin. Kraemer (2009) identified strike-slip faults in the SW of Munich close to the Alpine forefront. Megies and Wassermann (2014) analyzed recent seismic activity and concluded a NW-oriented strike-slip movement who identified a N 20° to 45°E fault system from 3D seismic measurements (Lueschen et al. 2014).
The present‐day maximum horizontal stress orientation in the Bavarian Molasse Basin is roughly perpendicular to the strike of the Alpine front, indicating that the first-order, far field tectonics in Western Europe is less dominant in the area than the second‐ and third‐order stress pattern (Tingay et al. 2006). A regional study of the stress field in the Bavarian Molasse Basin based on breakout analysis by Reinecker et al. (2010) revealed a rather homogeneously distributed N-S-oriented stress with a dominating strike-slip or thrust faulting stress regime.
For the WSW-ENE-oriented fault systems, a limited reactivation potential can be assumed. The hydraulic potential of these faults probably is also limited. Consequently, faults related to a strike-slip regime as identified by the analysis of focal mechanisms of seismic events (Megies and Wassermann 2014) would also be of importance to geothermal exploration.
Interpretation and discussion of results
Conclusion
The stress analysis made within the framework of this study has shown that the strike-slip stress regime with a N-S-oriented S
H
can be found in the Cenozoic layers in one well (Sauerlach Th1) and even in the Malm reservoir in two other wells (Sauerlach Th2 and Th3). Stress inversion of the breakout data measured in the Malm reservoir of Sauerlach Th1 and Th2 indicates a perturbed stress regime for Sauerlach Th1. The fracture systems within the Malm reservoir of Sauerlach Th2 and Th3, both drilled towards the WSW-ENE faults, have a predominant WSW-ENE orientation. In contrast, Sauerlach Th1, drilled between the northern and southern WSW-ENE fault zones, exhibits an N-S- to NNE-SSW-oriented fracture system. This tectonic situation can lead to consequences for the hydraulic system for both inferred stress regimes:
A)

In a stress regime with nearly N-S-oriented SH, the N-S- to NNE-SSW-oriented fracture system, which is dominant in the Sauerlach Th1 but very minor seen in Sauerlach Th2 and Th3, can have a dilatational character (Figure 9/white arrows in Case I).

B)

In a N 150°E-oriented strike-slip stress regime, the N-S- to NNE-SSW-oriented fracture planes will reach highest shear stress (Figure 9/shear movement in Case I) and most likely experience shear movement.
In both cases, the fracture aperture might be increased, leading to better hydraulic connectivity. This is supported by the fact that Th1 has a higher productivity. Overall, the identified stress effects help us to understand the hydraulic properties of the well Sauerlach Th1 compared to the wells Sauerlach Th2 and Th3. In this study, we could assess the stress distribution in highly deviated wells at the Sauerlach site. The approach chosen, however, is not site specific and can be transferred to other wells. The ability to identify and precisely locate stress perturbations can improve the predictability of hydraulic performance and thus contribute to a better assessment strategy.
Declarations
Acknowledgements
Grateful thank goes to the reviewers for their helpful expertice in improving the manuscript. We would like to thank the Stadtwerke München for the provision of the data set and the permission to publish the results. Special thanks go to Erdwerk GmbH for the possibility to carry out such a project and the support during data collection. Additionally, we thank the EnBW AG and especially the Department of Research and Development for the support of the Chair for Geothermal Research of KIT.
Authors' Affiliations
(1)
Karlsruher Institute of Technology (KIT), Karlsruhe, Germany
(2)
Erdwerk GmbH, München, Germany
(3)
Stadtwerke München GmbH (SWM), München, Germany
Copyright
© Seithel et al.; licensee Springer. 2015
This is an Open Access article distributed under the terms of the Creative Commons Attribution License (http://creativecommons.org/licenses/by/4.0), which permits unrestricted use, distribution, and reproduction in any medium, provided the original work is properly credited.