Matrix permeability of reservoir rocks, Ngatamariki geothermal field, Taupo Volcanic Zone, New Zealand
Geothermal Energy
Science – Society – Technology
2018
6:2
Received: 25 October 2017
Accepted: 29 December 2017
Published: 22 January 2018
Abstract
The Taupo Volcanic Zone (TVZ) hosts 23 geothermal fields, seven of which are currently utilised for power generation. Ngatamariki geothermal field (NGF) is one of the latest geothermal power generation developments in New Zealand (commissioned in 2013), located approximately 15 km north of Taupo. Samples of reservoir rocks were taken from the Tahorakuri Formation and Ngatamariki Intrusive Complex, from five wells at the NGF at depths ranging from 1354 to 3284 m. The samples were categorised according to whether their microstructure was pore or microfracture dominated. Image analysis of thin sections impregnated with an epoxy fluorescent dye was used to characterise and quantify the porosity structures and their physical properties were measured in the laboratory. Our results show that the physical properties of the samples correspond to the relative dominance of microfractures compared to pores. Microfracture-dominated samples have low connected porosity and permeability, and the permeability decreases sharply in response to increasing confining pressure. The pore-dominated samples have high connected porosity and permeability, and lower permeability decrease in response to increasing confining pressure. Samples with both microfractures and pores have a wide range of porosity and relatively high permeability that is moderately sensitive to confining pressure. A general trend of decreasing connected porosity and permeability associated with increasing dry bulk density and sonic velocity occurs with depth; however, variations in these parameters are more closely related to changes in lithology and processes such as dissolution and secondary veining and re-crystallisation. This study provides the first broad matrix permeability characterisation of rocks from depth at Ngatamariki, providing inputs for modelling of the geothermal system. We conclude that the complex response of permeability to confining pressure is in part due to the intricate dissolution, veining, and recrystallization textures of many of these rocks that lead to a wide variety of pore shapes and sizes. While the laboratory results are relevant only to similar rocks in the Taupo Volcanic Zone, the relationships they highlight are applicable to other geothermal fields, as well as rock mechanic applications to, for example, aspects of volcanology, landslide stabilisation, mining, and tunnelling at depth.
Keywords
PoresVolcaniclasticConfining pressureMicrofracturesConnected porosity
Background
New Zealand relies on geothermal energy to generate approximately 16.5% of its electricity (MBIE
2017
). The generation portfolio was increased in 2013 with the addition of 82 MWe generation capacity at the Ngatamariki geothermal field (NGF) (Fig.
1
). Understanding the nature and behaviour of the geothermal reservoir at Ngatamariki is of upmost importance for the efficiency and longevity of the geothermal resource. Two key properties that control reservoir behaviour are porosity and permeability of the reservoir rocks (Jafari and Babadagli
2011
). Porosity is the measure of void volume (empty space) and permeability indicates how easily a fluid can pass through a medium (Guéguen and Palciauskas
1994
). Because porosity does not indicate the shape, size, and distribution of the voids, it provides limited information about the ability for a fluid to flow through the rock. Porosity includes both connected porosity and unconnected porosity. Unconnected porosity refers to void spaces that are not interconnected with the rest of the void network and, therefore, cannot be accessed by fluids. Connected (or effective) porosity refers to void spaces that are interconnected and can, therefore, contribute to permeability. This study focuses only on connected porosity. Many studies have described the control of the primary rock textures on permeability, with large differences between intrusive, volcanic, and sedimentary rocks (e.g., Géraud
1994
; Heap et al.
2015
,
2017b
; Ruddy et al.
1989
; Farrell and Healy
2017
). Alteration, dissolution, and mineralisation associated with hydrothermal fluids also affect connected porosity (e.g., Wyering et al.
2014
). Permeability as defined by Henry Darcy in the mid-1800s applies to non-turbulent (Darcian) flow (Glassley
2010
). It is scale dependent with distinct differences between macro- (metre scale fractures) and micro (matrix)-scale permeability (Heap and Kennedy
2016
) and can be partially attributed to the random distribution of void structures throughout a rock mass (Glassley
2010
).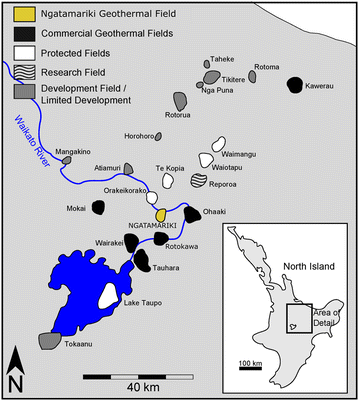 A common approach to modelling a geothermal system is to assume dual porosity/permeability, where two interactive continua, macro-fracture, and matrix permeability are assumed to have their own unique properties (Jafari and Babadagli 2011). Natural macro-fractures within a geothermal system, resulting from unconformities, cooling joints, and tectonic stress discontinuities, strongly control fluid flow due to their high permeability (Murphy et al. 2004), and generally control the permeability in geothermal systems (Jafari and Babadagli 2011). Testing of macro-fracture permeability is usually done in situ with injection flow rate tests used to identify areas of high permeability associated with fractured zones (Watson 2013). In this study, we focus on sample scale (i.e., matrix) properties of recovered drill core. This provides the second component of rock mass permeability, which, when combined with in-situ testing, forms the basis for permeability inputs for reservoir modelling.
In this paper, we present laboratory tests of rocks from the Tahorakuri Formation and Ngatamariki Intrusive Complex (NIC), from five wells at depths of 1354–3284 m. We made measurements of porosity, dry bulk density, ultrasonic velocity (saturated and dry), and permeability (at a range of confining pressures). We also present an assessment of the sensitivity of the permeability of the tested lithologies to confining stress. In particular, we focus on the type and shape of the pores and microfractures (Siratovich 2014; Lamur et al. 2017) and how they affect the fluid flow properties of rocks from NGF. Finally, we explore the relationships between burial diagenesis, hydrothermal alteration, and physical properties. An understanding of the reservoir rock's physical properties can help with field exploration and operation, as well as provide guidance to numerical models that can guide future field optimisation.
Geological setting
The Taupo Volcanic Zone (TVZ) is a rifted arc in the centre of the North Island of New Zealand, related to the subduction of the Pacific plate below the Australian plate at the Hikurangi margin. The geology, volcanology, and structure of the TVZ have been thoroughly described elsewhere by authors such as Wilson et al. (1995) and more recently with a geothermal perspective by authors such as Wilson and Rowland (2016). NGF is situated in the central part of the TVZ (Fig. 1) and is operated as a geothermal power generation site by Mercury NZ Limited. Twelve deep boreholes have been drilled between 1980 and 2016 with the most recent (NM12) in 2014. There are currently four production and five injection wells along with 34 monitoring wells, used to observe shallow, intermediate, and deep aquifer fluid and pressure trends. A small number of these wells also provide monitoring of the separation between NGF and the nearby protected Orakei-Korako geothermal area.
The subsurface stratigraphy encountered at NGF (Fig.
2
; Table
1
) has been described by Bignall (
2009
), Boseley et al. (
2012
) and Chambefort et al. (
2014
). The Tahorakuri Formation is the unit of primary interest in this study for several reasons. It is one of the significant reservoir rocks at NGF (e.g., Coutts
2013
), and spot cores recovered during drilling cover a wide range of depths within this unit, allowing investigation of the changes in physical properties with depth. The Tahorakuri Formation is a sequence of deposits between the Whakamaru Group ignimbrites and the Torlesse greywacke basement. At NGF, the Tahorakuri Formation comprises a thick pyroclastic sequence (~ 1000–1500 m thick) of primary tuffs, volcaniclastic (reworked) tuffs, and welded ignimbrites, overlain by sediments and tuffs in the northern and central part of the field (Chambefort et al.
2014
). In the north to northwest of the field a quartz-phyric tonalite intrusion was encountered in three boreholes. This study also incorporates measurements of samples from this intrusion and the Tahorakuri volcaniclastic tuffs and ignimbrites. Dating of the Tahorakuri Formation (Eastwood
2013
; Chambefort et al.
2014
) indicates the unit was deposited over 1.22 Ma. Figure
2
shows locations of cores used in this study.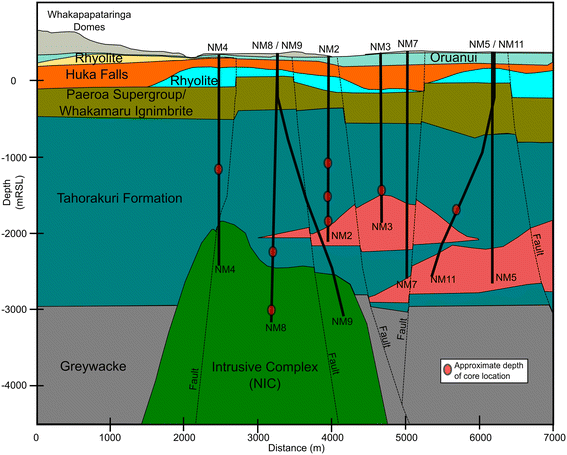 Table 1
Subsurface lithology of Ngatamariki from wells NM1-7, as described by Bignall (2009)
Ngatamariki stratigraphy

Formation name

Thickness (m)

Lithological description

Orakonui Fm

0–10

Pumice breccia, with common volcanic lithics, quartz and minor feldspar

Orunanui Fm

15–85

Cream to pinkish vitric–lithic tuff, with vesicular pumice and lava lithics, plus quartz, feldspar and rare pyroxene crystal fragments

Huka falls Fm

> 70–285

Coarse to medium grained sandstone, minor gravel (laminated lacustrine sediments)

Waiora Fm

0–10

An upper level interval of Waiora Formation, comprises pumice-rich vitric tuff, with volcanic lithics, quartz, rare biotite and pyroxene crystals

Rhyolite lava

115–315

Glassy rhyolite lava, with perlitic textures, phenocrysts are quartz, feldspar, pyroxene and magnetite

Waiora Fm

0–240

A lower interval of Waiora Formation, comprising pumice-rich vitreous tuff, intercalated with crystal tuff, tuffaceous coarse sandstone and tuffaceous siltstone

Wairakei ignimbrite

100–200

Crystal–lithic tuff/breccia, with abundant quartz, minor feldspar, rare biotite and pyroxene, minor volcanic lithics and pumice, in a fine ash

Rhyolite lava

0–285

Hard porphyritic quartz-rich rhyolite lava with phenocrysts of quartz, minor feldspar, and minor ferromagnesian minerals

Tahorakuri Fm

460–700

White to pale grey lithic tuff/breccia intercalated with fine sediments. In NM6 it is intercalated with 310 m of andesite lavas and breccias (tuffs and sediments)

Tahorakuri Fm

> 200–840

Pale grey, lithic tuff/breccia containing dark grey/brown lava, rhyolite pumice greywacke–argillite and sandstone clasts in a silty matrix (Akaterewa ignimbrite)

Tahorakuri Fm

> 830

Pale grey porphyritic feldspar, pyroxene and amphibole andesite lava and breccia (andesite lava, breccia)

Torlesse greywacke

Undefined

Pale grey to grey, massive meta-sandstone which lack obvious bedding, quartz veins
Methods
All rock preparation, measurement, and analysis were carried out in the rock mechanics laboratories, at the Department of Geological Sciences, University of Canterbury (Cant 2015). Samples were taken from core supplied by Mercury NZ Limited and Tauhara North No. 2 Trust. A drill press was used to extract 25–20 mm diameter cylinders from the core using a diamond tipped coring bit. The cylinders were all oriented parallel to the long axis of the core samples, making them approximately vertical within the stratigraphic column. A small piece of each cylinder was removed for thin section preparation for petrophysical analysis and void structure investigation. The cylinders were cut for a length-to-diameter ratio between 1:1.8 and 1:2.2, and ground flat for parallel ends as recommended by Ulusay and Hudson (2007) to allow for future unconfined compressive strength (UCS) testing. After coring and grinding the cylinders, they were placed in an ultrasonic bath with distilled water to clean and remove loose fractured material or clays formed during core drilling and grinding, then oven dried.
Conclusions
The objective of this paper was to determine the controls on the intact physical properties of a range of volcanic geothermal reservoir rocks. Because the samples were extracted from a range of depths, it was possible to perform permeability testing at confining pressure representative of the in-situ pressure conditions from which they were extracted. Microstructural analysis was performed in conjunction with the physical testing to compare the physical properties to the microstructural textures, mineralogy, and pore structure.
The main conclusions are:
The physical properties of the tested samples reflect the microstructure types observed. Minor variations within the physical properties are attributed to variations in lithostatic stress and hydrothermal alteration processes. The volcaniclastic units show a large variation in connected porosity, dry bulk density, sonic velocity, permeability, and microstructure, attributed to the compositional range of pumice and lithic components and depositional processes resulting in vastly different primary textures.

In general, microfracture-dominated samples have lower permeability than pore-dominated samples. A critical porosity at approximately 10–12% delineates the changeover from microfracture to pore-dominated permeability and response to confining pressure. However, few consistent correlations exist between the limited 2D thin section analysis-based quantitative microstructure shape and spatial density analysis (e.g., microfracture density) and permeability. Increased pore circularity does weakly correlate with increased permeability, likely as a result of embayments at the pore boundary that do not promote fluid flow, although we emphasize that further analysis on larger 3D volumes (as shown in Kennedy et al. 2016) is required to confirm the correlation.

Samples with a microfracture pore structure have progressively lower permeability with increased confining pressure when compared to samples with a pore-dominated microstructure. The samples with pore-dominated pore structure show a smaller decrease in permeability with increasing confining pressure compared to the microfractured samples. All samples show the largest decrease occurring between 5 and 15 MPa.

The non-systematic variation in the physical and mechanical properties with depth suggests that lithology, burial diagenesis, and hydrothermal alteration and dissolution all play a role in controlling the physical and mechanical properties of the reservoir rocks. In particular, the variation in the pore structure of lithologies in the Tahorakuri Formation is likely due to variations in sorting and clast density associated with depositional environments.

The pore-dominated samples show little decrease in permeability with increased confining pressure and, depending on the effects of alteration, therefore, could retain connected porosity and permeability at great depth (> 3000 m). This then indicates that as long as pore-dominated porosity is preserved, the development of deep geothermal resources may be possible.
Our results show that matrix permeability is not simply a function of lithology, depositional environment, diagenesis, or alteration. It is the combination of all of these that leads to particular microstructure types, each of which contributes to matrix permeability differently. Certain processes tend to occur at specific pressures or temperatures, with different fluids and for different lithologies and primary textures. From a geothermal perspective, this suggests that building a permeability model requires careful geological and physical characterisation of the rock and rock mass for each unique geothermal system. This would also be the case for petroleum reservoirs, dewatering and excavations in volcanic systems or hydrothermally altered systems.
Declarations
Authors' contributions
JLC performed the laboratory testing, analysis, and writing of the manuscript. PAS, JWC, MCV, and BMK conceived the project, secured the funding, selected the samples, supervised the research and analysis, and finalised the completion of the manuscript. All authors read and approved the final manuscript.
Acknowledgements
The authors wish to thank Mercury NZ Limited, Tauhara North No. 2 Trust and Te Pumautanga o Te Arawa Trust for the use of core supplied for this study. The technical staff at the University of Canterbury was invaluable for conducting the laboratory testing.
Competing interests
The authors declare that they have no competing interests.
Availability of data and materials
The data set supporting the conclusions of this article is included within the article.
Consent for publication
Not applicable.
Ethics approval and consent to participate
Not applicable.
Funding
This research was funded by Mercury NZ Limited (formerly Mighty River Power).
Publisher's Note
Springer Nature remains neutral with regard to jurisdictional claims in published maps and institutional affiliations.
Open AccessThis article is distributed under the terms of the Creative Commons Attribution 4.0 International License (http://creativecommons.org/licenses/by/4.0/), which permits unrestricted use, distribution, and reproduction in any medium, provided you give appropriate credit to the original author(s) and the source, provide a link to the Creative Commons license, and indicate if changes were made.
Authors' Affiliations
(1)
Department of Geological Sciences, University of Canterbury, Christchurch, New Zealand