Mapping the low enthalpy geothermal potential of shallow Quaternary aquifers in Finland
Received: 7 February 2014
Accepted: 3 June 2014
Published: 26 June 2014
Abstract
Background
EU member states have concluded an agreement that renewable energy will cover 20% of the total energy production by 2020. To achieve this target, it is essential to investigate all possibilities for renewable energy production. We investigated whether groundwater could provide a shallow geothermal energy resource, and to what extent it could meet the demands for heating buildings in Finland. Our research focused on classified aquifers, namely, groundwater areas that are zoned for urban or industrial use.
Methods
The heating potential of Finnish aquifers was estimated based on the flux, temperature and heat capacity of groundwater and the efficiency of heat pumps. The design power of residential buildings was then simulated. Finally, the design power was divided by the groundwater power to determine the ability of groundwater to heat buildings.
Results
Approximately 56,500 ha of Finnish aquifers are zoned for urban or industrial land use. These aquifers contain 40 to 45 MW of power. In total, 55 to 60 MW of the heat load could be utilised with heat pumps, meaning that 25% to 40% of annually constructed residential buildings could be heated utilising groundwater in Finland.
Conclusions
There are several hundred sites in Finland where groundwater could be used for energy utilisation, and groundwater could thus be a significant source of local renewable energy. However, because of geological and geographical factors, groundwater cannot be considered as a nationwide energy source. Future research should define the area-specific limiting factors for groundwater energy use.
Keywords
AquiferOpen-loop systemHeat pumpDesign powerEnergy potentialFinland
Background
EU member states are committed to promoting the use of renewable energy sources (RES) by accepting the EU directive 2009-28-EN. In Europe, the share of RES systems should reach 20% by the year 2020. One form of RES is groundwater, which can be exploited to supply the heating and/or cooling demands of residential households or industries. Hence, groundwater is not only a source of individual or municipal drinking water but also a resource for renewable energy production. The low enthalpy energy in shallow aquifers, typically below 100 m in depth, indicates an energy resource in which the temperature is below 30°C (Allen and Milenic [2003]; Banks [2010]). This geothermal energy is mostly derived from solar radiation (Fetter [1994]), as only a minor proportion of stored energy in shallow aquifers originates from the Earth's internal heat or from heat produced by plate tectonics (Banks [2010]). Several studies have demonstrated that shallow aquifers under cities can be a significant low enthalpy energy source (Allen et al. [2003]; Kerl et al. [2012]; Zhu et al. [2010]). The Netherlands is an example of a country with widespread groundwater energy utilisation, where over 3,000 heat pumps were in use, and over 200 million m3 of water was pumped for energy utilisation in 2010 (Statistics Netherlands [2012]). Two good examples of groundwater utilisation in Nordic countries are Gardermoen airport in Oslo, Norway, and Arlanda airport in Stockholm, Sweden. Both airports are located on a glaciofluvial gravel and sand deposit: Gardermoen is operating with a maximum groundwater capacity of 20 to 25 m3/h (Eggen and Vangsnes [2005]), and Arlanda with a capacity of 720 m3/h (Persson [2007]). A demonstration heating plant, with a heat pump capacity of 72 m3/h groundwater, was also built in Forssa, southern Finland, in 1984 to 1985 (Iihola et al. [1988]).
The technique for groundwater energy utilisation is designated as an open system or open-loop system. In an open-loop system, groundwater is circulated between two or more groundwater wells, and energy is extracted from the flowing water by a heat transfer system (Bonte et al. [
2011
]; Haehlein et al. [
2010
]). If the heating energy is produced by a heat pump, the term groundwater heat pump (GWHP) system is also used (Haehlein et al. [
2010
]). Most typically, groundwater is pumped from springs, wells, boreholes or flooded mines to GWHP systems. The principle of a double-well GWHP system is illustrated in Figure
1
.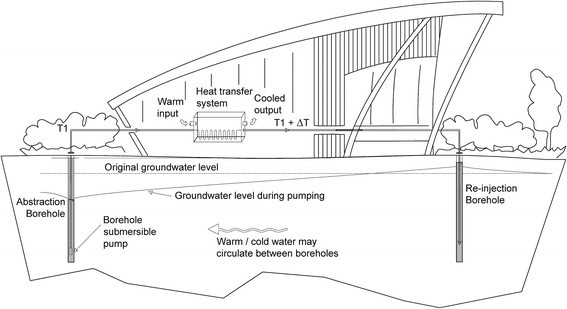 GWHP systems require a particular environment to work properly. The main requirements are soil and rock that possess a relatively high water conductivity of 10−5 to 10−1 m/s and a suitable chemical composition of groundwater (Sanner [2001]). A high hydraulic conductivity of the soil or rock allows sustainable groundwater circulation (Kalf and Woolley [2005]; Zhou [2009]), so that the abstraction and re-injection of groundwater has a minimal local effect on groundwater storage, whilst suitable chemical properties of the groundwater, i.e. relatively low concentrations of iron (Fe), manganese (Mn), carbon dioxide (CO2) and chloride (Cl−), are essential to avoid clogging and corrosion of the GWHP system (Lindblad-Påsse [1986]; Sanner [2001]). An inadequate design or unfavourable environmental conditions may allow excessive groundwater flow from the injection well to the abstraction well, and hence may reduce the efficiency of the GWHP system. Especially in the Nordic region, the implementation of groundwater as a source of heating energy can also fail due to the low natural temperature of groundwater.
Finland is one of the world's leading users of RES. In 2010, RES supplied 30.2% of the final consumption of energy (Statistics Finland [2012]), whilst the target share of RES in the gross final energy consumption of Finland in 2020 has been set at 38% by EU directive 2009-28-EN. The objective of the National Energy and Climate Strategy is to increase the use of renewable energy sources and their share of total energy consumption (Ministry of Employment and the Economy [2008]). In 2011, approximately 8% of the energy for heating buildings, 3 to 4 TWh, was produced by air, air-water and ground source heat pumps (Statistics Finland [2012]), but it is estimated that the use of heat pump energy should double from current levels by the end of 2020 (Ministry of Employment and the Economy [2010]). Ground source heat pumps accounted for approximately 40% of the total heat production by heat pumps in 2011 (Statistics Finland [2012]). Groundwater use for energy production in Finland is controlled by the Water Act and the Environmental Protection Act. However, there are no national regulations concerning the temperature threshold limits, unlike, for example, in Austria and Germany, where a temperature difference of 6 K has been set as the groundwater threshold limit for open-loop systems (Haehlein et al. [2010]). If the benefits of groundwater utilisation are greater than the disadvantages, the application for a permit for groundwater utilisation will be approved according to Finnish legislation (Water Act [2011]).
In order to achieve the RES targets by the year 2020, it is necessary to recognise all potential renewable energy resources in EU member states. Despite the favourable legislation, which does not pose significant obstacles to groundwater pumping, as well as the GWHP experiment in the 1980s (Iihola et al. [1988]), GWHP systems are not widely recognised as an option for RES in Finland. In this study, we explored how significant a heating energy resource groundwater could be in Finland. We measured three parameters that describe the heating potential of aquifers: (1) the potential heat power capacity that Finnish aquifers under urban or industrial land use can produce, (2) the amount of heating power that can be delivered to heat distribution systems of buildings from such aquifers by utilising heat pumps and (3) the surface area (m2) of detached houses and apartment buildings that could be heated using groundwater heating power.
Conclusions
Groundwater can be a significant local source of renewable energy in Finland. Because GWHP systems are internationally recognised to utilise renewable energy, and groundwater is easily exploitable from shallow sedimentary aquifers, it is an attractive option for energy use and should also be recognised in Finland. Groundwater energy utilisation is dependent on the existence of geologically and geochemically suitable aquifers that are zoned for urban or industrial land use and are only located in certain parts of the country. Hence, groundwater energy cannot provide a nationwide source of heating energy in Finland. This article is focused on the heating perspective, but the discussion is equally valid for cooling applications.
Approximately 56,500 ha of classified Finnish aquifers, comprising 801 groundwater areas, are under urban or industrial land use. According to the analysis presented here, the groundwater of these urban and industrial areas contains 40 to 45 MW of heating power. Assuming a COP of 3.5, 55 to 60 MW of heating power could be utilised from these aquifers using heat pumps. With this amount of power, almost 1.3 million m2 of standard detached housing and over 1.7 million m2 of modern ultra-low energy detached housing could be heated by GWHP systems.
Because of the estimated groundwater flux we used, the results are conservative, and the amount of thermogeological energy that could be provided by groundwater may be higher than presented here. It is possible that the natural groundwater temperature may provide the limiting factor for a GWHP system rather than its flux, especially in northern parts of the country. Moreover, the geochemical composition of groundwater may limit the use of heat pumps in the coastal areas of Finland.
More research is needed to determine the site-specific factors limiting GWHP systems, especially in northern Finland, and also in the diverse geographical, geological and geochemical regions in southern Finland. The limiting factors may include the sustainable yield of the aquifer, groundwater temperature and chemical composition. Further investigation is also needed to measure the influence of the urban heat island effect on groundwater energy utilisation in the northern region. Careful thermogeological and environmental research is needed when planning individual GWHP systems. Hence, the information presented in this paper is indicative, and should not be used when planning heating and/or cooling systems for a single property.
Declarations
Acknowledgements
We thank the following persons for their support and advice: Juha Jokisalo, D.Sc., Professor Veli-Pekka Salonen, Dr. Martin Preene, Mikko Hynninen, M.Sc. Tech., Petri Siiro, M.Sc., Esko Nylander, M.Sc., Janne Mäkinen, M.Sc. and Dr. Roy Siddall for language revision. Special thanks to colleagues in the Turku office of Golder Associates. This research was funded by Golder Associates Oy, the foundation Maa-ja vesitekniikan tuki ry and the K.H. Renlund Foundation.
Authors' Affiliations
(1)
Golder Associates Oy, Turku, Finland
(2)
Department of Energy Technology, alto University, Aalto, Finland
(3)
Golder Associates Oy, Helsinki, Finland
(4)
Department of Geosciences and Geography, University of Helsinki, Helsinki, Finland
Copyright
© Arola et al.; licensee Springer 2014
This article is published under license to BioMed Central Ltd. This is an Open Access article distributed under the terms of the Creative Commons Attribution License (http://creativecommons.org/licenses/by/4.0), which permits unrestricted use, distribution, and reproduction in any medium, provided the original work is properly credited.