Monitoring of a geothermal reservoir by hybrid gravimetry; feasibility study applied to the Soultz-sous-Forêts and Rittershoffen sites in the Rhine graben
Geothermal Energy
2015
3:16
Received: 31 March 2015
Accepted: 4 August 2015
Published: 7 September 2015
Abstract
The study is devoted to the monitoring of a geothermal reservoir by hybrid gravimetry combining different types of instruments (permanent superconducting gravimeter, absolute ballistic gravimeter, and micro-gravimeters) and different techniques of measurements (both time-discrete and recording data collection). Using a micro-gravimetric repetition network around a reference station, which is regularly measured, leads to the knowledge of the time and space changes in surface gravity. Such changes can be linked to the natural or anthropic activities of the reservoir. A feasibility study using this methodology is applied to two geothermal sites in the Alsace region (France) of the Rhine graben. We show the results in terms of gravity double differences from weekly repetitions of a network of 11 stations around the geothermal reservoir of Soultz-sous-Forêts, separated into 5 loops during July–August 2013 and 2014 as well as preliminary results from 2 stations near Rittershoffen (ECOGI). We point out the importance of a precise leveling of the gravity points for the control of the vertical deformation. A first modeling of surface gravity changes induced by realistic geothermal density perturbations (Newtonian attraction) is computed in the frame of the existing geological model and leads to gravity changes below the μGal level being hence undetectable. However, and for the same case, borehole gravity modeling showed a significant anomaly with depth that can be used as a complementary monitoring method. We show that in the limit of our uncertainties (SD ~ 5 μGal), we do not detect any significant gravity change on the geothermal site of Soultz in agreement with the fact that there was indeed no geothermal activity during our analysis period. On the contrary, the measurements near Rittershoffen show a signal above the noise level which correlates in time with a production test but cannot be explained in terms of Newtonian attraction effects according to our basic numerical simulation.
Keywords
Gravity ChangeGeothermal ReservoirSuperconducting GravimeterAbsolute GravityEnhance Geothermal System
Background
Gravimetry is generally used as a prospecting method for underground structures at various scales (volcanoes, geothermal, gas and oil reservoirs, mineral resources, stratigraphy) and contributes to the static imagery in addition to other methods like magneto-tellurics (e.g., Volpi et al. 2003, Newman et al. 2008; Geiermann and Schill 2010) or seismics (Concha et al. 2010; Sanjuan et al. 2010). Time-lapse gravimetry can also be a monitoring tool of any underground or surface mass redistribution and has many applications in volcanology (magmatic chamber evolution), hydrology (water storage changes in the critical zone), and geothermics.
Gravity has the potential to obtain valuable information on water storage changes and water flows using non-destructive observations of a geothermal reservoir with spatial resolution ranging from meter to kilometer.
Moreover, new instruments are available, like the portable superconducting gravimeter iGrav (Warburton et al. 2010) or will be available soon, like the cold atom absolute gravimeter (Bidel et al. 2013; Wu et al. 2014; Merlet et al. 2010) that will even improve in the near future this potentiality.
Several studies have introduced the concept of hybrid (resp. super-hybrid) gravimetry (Okubo et al.
2002
; Sugihara and Ishido
2008
; Hector et al.
2015
) that is the optimal combination of two (resp. three) types of gravimeters (see Fig.
1
and Table
1
):

Table 1
Characteristics of the different gravimeters involved in hybrid gravimetry
| Gravimeter | Precision | Stability | Use |
| --- | --- | --- | --- |
| Superconducting (SG) | <0.1–0.01 μGal | Small drift (1–2 μGal/year) | High-precision continuous monitoring |
| Absolute (AG) | 1–2 μGal | No drift | Absolute reference + long-term evolution |
| Relative spring (RG) | 5 μGal | Large drift (tens or hundreds of μGal/day) | Prospection + repetition network |
a permanent gravimeter which allows a precise continuous monitoring of the time-varying gravity at a reference station located on the investigated site; in order to be able to retrieve the long-term behavior, one uses generally a superconducting gravimeter (SG) rather than a spring meter because of its very small instrumental drift (a few μGal/year) and better precision (0.1–0.01 μGal) (Hinderer et al. 2007);

a ballistic absolute gravimeter (AG) that allows to control the long-term gravity changes by repeated parallel recording over short periods of time with the SG (Sugihara and Ishido 2008; Jacob et al. 2008), as well as to check the calibration stability of the SG;

a spring relative gravimeter (RG) to repeat observations on a micro-gravimetric network around the reference station by successive loops in order to gain more insight into the space-time changes in the investigated region (Naujoks et al. 2008; Gehman et al. 2009; Jacob et al. 2010; Hare et al. 2008; Davis et al. 2008).
In this feasibility study, we do not have any SG measuring continuously on site but rather use a link to a SG in operation in the Strasbourg Gravimetric Observatory 40 km away. This impacts clearly the absolute accuracy of our local network even if we performed two AG measurements on our reference station GPK1 showing no gravity variation over a period of about 6 months (see "Absolute gravity measurements at the reference site GPK1" section).
Hybrid gravimetry is often coupled to other types of measurements like precise positioning, hydrometeorology (rain), or hydrology (piezometry, soil moisture) and brings new insights in several research topics. Progress has been made in hydrogravimetry in the study of water storage changes using mainly SG and RG measurements (Longuevergne et al. 2009; Creutzfeldt et al. 2010; Naujoks et al. 2010; Pfeffer et al. 2011; Hinderer et al. 2012; Hector et al. 2015). Similarly, new results were obtained from hybrid gravimetry in volcanology using mostly AG and RG measurements (Greco et al. 2012; Hautmann et al. 2010; Bataglia et al. 2008) that allow to determine also absolute changes in the local network which were unknown in previous studies based only on RG observations (e.g., Jousset et al. 2000). Finally, many studies in geothermics are now available using the concept of hybrid or super-hybrid gravimetry (Nishijima et al. 2000; Oka et al. 2010; Sofyan et al. 2010; Sugihara and Ishido 2008; Takemura et al. 2000).
There are several causes leading to density changes of geothermal origin like pore space opening/closing in hydrofracturing or hydroshearing, fluid infiltration, heating/cooling, as well as mineralization (De Vivo et al. 1989; Schultz et al. 2012) but the main causes for gravity changes are due to fluid injection and/or withdrawal (Allis et al. 2001; Hunt and Bowyer 2007; Hunt and Graham 2009).
Hence, it is expected that surface gravity observations can be sensitive to these changes provided that the data are corrected for body and ocean tides, air pressure effect and hydrogravimetric effects due to aquifers, and water content in the vadose zone (cf. Fig.
2
).

In Fig. 2, the conical shape of influence (footprint) is due to the fact that the lateral extension of a layer has to increase with depth to produce the same surface gravity effect (Hector et al. 2014).
The density (and mass) changes of geothermal origin will then alter surface gravity by direct Newtonian attraction but also possibly indirectly via the vertical surface displacement generated by poro-elasticity. It is therefore of primary importance to always combining gravity observations with precise geodetic measurements (leveling, GPS, and SAR); in principle, the best option is to co-locate both gravity and leveling stations, simultaneously measured for the control of the vertical deformation and the study of the time variable vertical gravity gradient which is highly sensitive to the sub-surface mass redistribution (Hunt et al. 2002).
Time-lapse gravimetry helps to monitor the behavior of a geothermal reservoir, in its natural state with no anthropic perturbation but mostly when transient effects due to stimulation by injection/withdrawal occur. One key point is the long-term evolution of the reservoir (Sofyan et al. 2011).
In this paper, we present the first monitoring results obtained for the Soultz and Rittershoffen (NE Alsace, France) geothermal sites. The methodology, the data processing, and forward modeling as well as the results obtained between July 2013 and August 2014 are mainly presented and discussed. The PyGrav code we developed to optimize the data processing and to reduce the data uncertainties is also presented.
Methods
In this section, we first introduce the micro-gravimetric network that was set up on the Soultz and Rittershoffen geothermal sites as well as the measurement protocol. We present then the absolute gravity observations, which were done with FG5#206 AG at the reference site of the network, as well as the continuous series at the same site obtained from a Scintrex CG5 gravimeter during a 34-day time span. We introduce also the precise geodetic positioning we use to control the vertical deformation. We finally discuss the approach we follow to model the gravity effects of any geothermal reservoir.
Results and discussion
The processing of the 8 surveys in 2013 and 6 surveys in 2014 leads first to the simple differences (Fig.
13
). This plot shows the gravity differences in mGal as a function of the station number where the base station GPK1 (code 1) is set to 0. The variation range below 17 mGal is mainly a consequence of the height differences among the stations and the regional density structure and any smaller variation (typically < tens of μGal for the 2014 surveys as shown below) in time due to hydrology or geothermics is of course undetectable on this plot. The stations from 1 to 11 correspond to the Soultz network. Stations 12 and 13 around Rittershoffen are only available in 2014.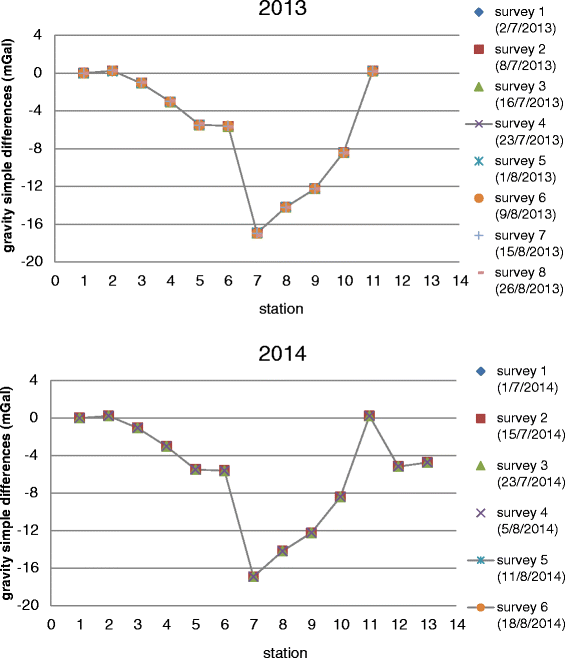 The computation of the double differences leads to a tremendous decrease in the amplitude of the gravity variations between 2013 and 2014 with values of several hundreds of μGal in 2013 and in the range of a few μGal to less than 30 μGal in 2014. Similarly, there is roughly one order of magnitude reduction in the uncertainties (standard deviation) in 2014 with respect to 2013 as shown by Table
4
; the 2014 uncertainties are small ranging from 2.6 to 6.6 μGal for the 6 available surveys.
Table 4
Average standard deviation (SD) for each survey in 2013 and 2014
Survey 2013

July

August

Day

2

8

16

23

1

9

15

26

SD (μGal)

64.9

51.8

47.1

49.7

52.6

50.1

53.6

56.1

Survey 2014

July

August

Day

1

15

23

5

11

18

SD (μGal)

2.6

3.2

5.8

6.6

5.8

5.6
Since the measurement protocol (number of stations per loop, number of loops, duration of each measurement, environmental conditions) is identical in 2013 and 2014, we attribute this decrease to the use of a different instrument. Both instruments are Scintrex CG5 models but the older instrument used in 2013 was known to be unstable after transportation. In 2014, we acquired a new CG5 and the older one was sent back to the manufacturer for test and it turned out that this instrument was defective and needed to be fixed. We believe that our poor results in 2013 are mostly due to the poor performances of the instrument. Since the 2013 campaign is useless, we focus now on the 2014 results in Fig.
14
.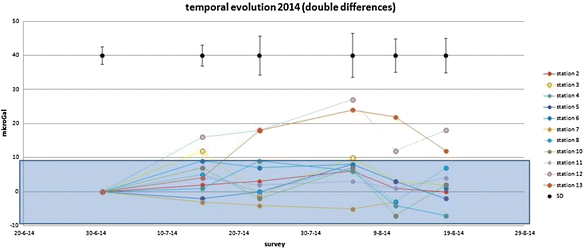 The variations in time are now much smaller with amplitude in the range of a few μGals almost never exceeding 10 μGal. These changes are linked to several processes including vertical deformation, underground water redistribution (soil water content + water table), and possibly deeper geothermal contributions.
Almost all observed changes in the Soultz network (stations 1–11) are within the rectangular uncertainty zone and are hence not significant. In other terms, we do not observe any gravity change that exceeds our measurement precision.
The lack of detectable gravity changes indicated by our results for 2014 is in agreement with the fact that during this period, the geothermal activity was completely stopped in Soultz. When this activity will restart as expected in 2016 after major improvements in the central geothermal system, the induced gravity changes should still be small according to our (very) simple modeling and hardly observable by our network and related uncertainty. A more precise computation will be done according to known input parameters like production/injection flow rate and stimulation duration.
Stations 12 and 13 around the Rittershoffen geothermal site show larger changes (reaching 25 μGal) that are largely above our precision level and coincide with the start of well production tests at ECOGI beginning in August 2014. However, we need to have additional measurements to confirm the correlation between gravity and geothermal activity, especially having in mind that the Rittershoffen gravity loop is longer than the other loops near Soultz, which may deteriorate the drift correction of the micro-gravimeter. Moreover, our simple modeling has shown that gravity changes due to reasonable amount of injected mass are below 1 μGal; we must be cautious on the origin of the changes which may be due to more superficial hydrological effects. However, notice that an increase of 10 μGal would require a water table increase of 25 cm (or 25 cm/φ where φ is the porosity). We plan to acquire in the future piezometric data close to our investigated site to estimate this contribution.
Conclusions
Since the successive surveys in 2013 of the Soultz network can be dismissed because of an instrument defect, we basically only rely on the 6 surveys performed in summer 2014 using a new instrument. The time changes of the weekly repetitions of the stations are clearly small and mostly within the uncertainty level of the order of 5 μGal. We have to repeat again these measurements in summer 2015 to check that the changes from 1 year to the next are also small, especially in the lack of geothermal activity. If this is true, we will then have a well-defined reference network to detect the possible gravity changes that might occur when the geothermal plant will be restarted in 2016. The comparison of the uncertainties in the ties between the local reference station (GPK1) and the external reference station (J9 Observatory) shows that the use of absolute measurements at GPK1 combined with continuous SG observations at J9 leads to better results than CG5 RG ties alone. It is also obvious that the ideal case would be to install at GPK1 a permanent SG regularly checked with FG5 measurements as suggested in a true hybrid gravimetric approach.
The only observed significant changes in 2014 close to the ECOGI site in Rittershoffen that are possibly related to the injection tests at the same period rely only on two stations. We plan to densify in the future the network around ECOGI with additional stations to check the stability of the Rittershoffen network in the lack of activity in summer 2015. We also intend to detect the gravity signature of the future tests planned end of 2015 and to monitor the gravity change during the 2016 production period.
The rather large distance of the mass sources in deep geothermal reservoirs (2.5 km for Rittershoffen and 5 km for Soultz) leads to very small surface signals, at least from the purely Newtonian point of view. However, borehole gravimetric modeling showed that a significant signal arises from water injection according to depth, when the source-sensor distance decreases.
Declarations
Acknowledgements
This study was supported by Labex G-EAU-THERMIE project (Investissements d'Avenir), France and by the Institute for Nuclear Waste Disposal (INE)- Karlsruhe Institute for Technology (KIT), Germany.
Open AccessThis article is distributed under the terms of the Creative Commons Attribution 4.0 International License (http://creativecommons.org/licenses/by/4.0/), which permits unrestricted use, distribution, and reproduction in any medium, provided you give appropriate credit to the original author(s) and the source, provide a link to the Creative Commons license, and indicate if changes were made.
Authors' Affiliations
(1)
Institut de Physique du Globe de Strasbourg UMR 7516 CNRS, Université de Strasbourg, Strasbourg, France
(2)
Observatorio Geofísico Central, IGN, Madrid, Spain
(3)
Institut für Nukleare Entsorgung INE, Karlsruher Institut für Technologie (KIT), Karlsruhe, Germany
(4)
Dipartimento di Scienze della Terra, dell'Ambiente e delle Risorse (DiSTAR), Università "Federico II" di Napoli, Naples, Italy
(5)
INSA Strasbourg, Strasbourg, France